Where is Santa?

When Can I Visit?

Santa is in his sleigh on select nights every weekend starting November 21

Fridays 4:30pm – 8:30pm*
Saturdays 4:30pm – 8:30pm

Starting December 21, Santa is downtown every day

Tuesday – Thursday 4:30pm – 8:30pm
Christmas Eve 4:30pm - 7:30pm

Santa Loves Getting Your Letters
Photo Package
All Digital Files
$37

---

Gather with Santa
Our Santa photo set helps the whole family to get together for a photo while your kids and Santa talk! Your whole family can meet Santa for beautiful photos!
Santa Downtown
Every night of our tours, Santa Claus will be waiting for you in his sleigh in Downtown Pensacola. Santa's sleigh has been redesigned for your whole family! Large groups can sit on presents outside of Santa's sleigh for the perfect photo.
No more lines!
Guests will no longer wait in a crowded line, but will instead receive a reservation time to visit Santa. These reservations can be made online, or you can stop by to see what times are available during the event. Please arrive 5-10 minutes early to your reservation and check in at the photos table in front of Santa's sleigh. Only one reservation is needed per family or group. Guests with reservations are welcome to bring their own cameras and take photos and videos during their visit with Santa There are no refunds for photos but your reservations can be changed for a $20 fee per character.
Letters to Santa!
While we will not be having our letters to Santa attraction this year, we will have mailboxes that go straight to the North Pole stationed around Winterfest! You can also choose to skip the unpredictability of the Postal Service, reserve a time to meet Santa, and give your letters straight to the man himself!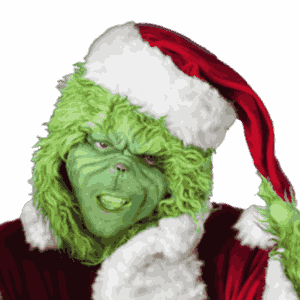 Intrude Upon the Grinch
And of course, Santa's favorite nemesis, The Grinch, will also be available for photo opportunities. Just like for Santa, guests can reserve their time to visit online or in person at Winterfest!
You will be led to the Grinch's throne, located behind Santa's sleigh. While he LOATHES visitors, the Grinch will reluctantly allow you to intrude upon his solitude and sit on top of a few trashcan seats for a photo.
Santa's Cookie Competition!
When you make a reservation to visit Santa, you may choose to bring Santa six homemade cookies (so he can share with his helpful elves) and win two tickets to ride the train. Please wrap the cookies individually. The recipe will be included in Mrs. Claus' recipe book. Each week Santa will pick his favorite cookie and post a description of how delicious it was on social media. In order for your cookies to count they must be made from scratch! Be sure to bring a printed copy of the recipe you used, along with your name, email, and phone number.
Elves Await
This year's Santa experience is even better. You will be guided to meet one of Santa's elves, who will be there with a list, ready to ask your children — and even parents! — what they want for Christmas. From there, the elf will guide your whole family to sit just outside of Santa's sleigh, atop presents! Santa will read your Christmas wishes aloud with you before striking a pose to take photographs.
This new, interactive performance is sure to become a special memory that you will want to share with friends! Guests who purchased a photo package will receive a festive thumb drive with all the pictures from their experience.

  Winterfest grants a nonexclusive, worldwide, perpetual license to reproduce, reuse, edit, transmit and transfer these Photos with Santa to the bearer of the photographs. Download the Grant of License letter.
Reserve your time with Santa

223 S. Palafox Place, 32502

∗

Pensacola

,

Florida

Watch Trailer

December , 11, 17, 18, 19, 21, 22, 23,
$37
$37