History of Pensacola Winterfest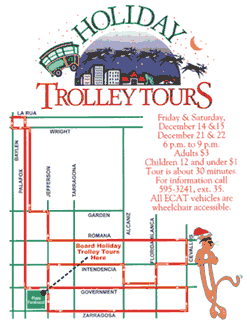 Trolley tours were sponsored by the Downtown Improvement Board, Escambia County Area Transit, and the Community Redevelopment Agency from 1998 - 2001. The Pensacola Historic District Property Owners (PHD) joined in to assist as tour guides. Neighbors constructed elaborate displays, including a Living Nativity. Santa and Mrs. Claus was the only interactive stop until the series ended in 2001. In 2002 the Grinch became the second stop at Brown, Thornton and Pacenta on Tarragona Street.
In 2004 Winterfest of Pensacola, Inc.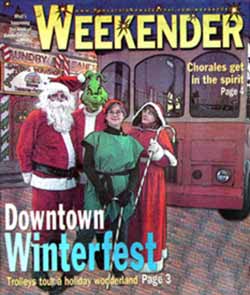 was formed to coordinate the event. Over 60 businesses, individuals and nonprofit organizations stepped forward to sponsor the 2009 event, and hundreds of volunteers pitched in. There were 18 performance stops along the original route. Winterfest now also operates a charter transportation service and a downtown parking program for other community organizations and events. In 2009, Winterfest raised over $15,000 in direct support for other community groups and provided services worth thousands more.